A Drifter at Sea. Oceanographer Helen E. Phillips.


Australian Oceanographer Helen Phillips, PhD describes herself as a quiet, introverted drifter growing up.  She was comfortable in math and science because she was judged on the exactness of her answers.  
She was born in Tasmania but grew up in a couple different places.  When she was ten her parents settled down in Adelaide, Australia.  This is where Helen graduated from high school and earned her oceanography and meteorology degrees at university there.  Helen describes her senior year of high school as one of distraction due to her spending time with her boyfriend.
Her uncle took Helen sailing out on the ocean blue which she loved very much.  In fact, on one of their voyages Helen decided that drifting out at sea was pretty awesome.
Helen earned her PhD and loves being out at sea studying.  Her research is on the Antarctic Circumpolar Current.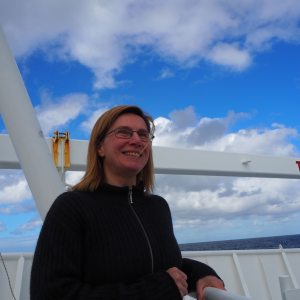 Helen looking relaxed on her way back to Hobart at the end of her Southern Ocean voyage (Photo by:  Nathan Bindoff)
The Research Vessel, The Investigator
"In Australia we have what we call the Marine National Facility.  There is a ship called the R/V Investigator. (RV is Research vessel.)  It is available for all Australians to use but you have to make a proposal to say what you are going to do with this ship.  You have to show that you're a scientist with some track record in doing good work.  This includes demonstrating that you will do good things with the resources of the ship.
We apply a couple of years ahead from when we actually want to use the ship.  An explanation of our scientific background for why we are doing this work.  Also a list of instruments we will use.  One must also identify  international collaborators.
If you are successful, and the competition is very tough, then you get the ship and they tell you what dates you have the ship for.  So for those dates you have access to the ship and the people that run it for free. 
It is like a grant but it is not money but rather it is the ship.  You receive the ship time and the resources on board.  One still has to pay to move your people to where the ship is and to bring the instruments on the ship.
Being out on the ship is like a little village.  There are cooks who make three hot meals a day and there is always food to graze on. The officers operate the ship and the deck crew support most of the operation of the ship.  Then there is the scientific crew and the work that's going on."
Learn more about R/V Investigator from the Commonwealth Scientific and Industrial Research Organisation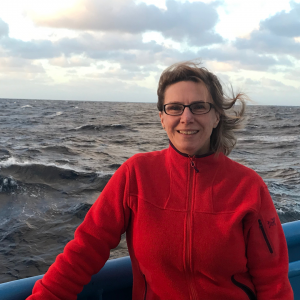 Helen on board R/V Investigator in the Indian Ocean                                                        (Photo by: Karlie McDonald)
Antarctic Circumpolar Current
Helen Phillips:
The interest for me is that we are studying a different current. We are studying the Antarctic Circumpolar Current.  It flows all of the way around Antarctica and separates the warm waters of the subtropics from the cold Antarctic.
We know that heat must cross this current because that's how the Earth maintains a stable climate. It receives more sun around the equator and it loses a lot of heat around Antarctica.  Somehow there has to be a pathway from the incoming heat at the equator to the outgoing heat at the pole. Both the atmosphere and the ocean contribute to that cycle.
The Antarctic Circumpolar Current is like a big wall in the path of this movement of heat.  We need to understand the processes that allow the heat to move across the current. Eddies and the meandering of the current are a very key part of that story. So what we've learned in the Gulf Stream we are now applying to the Antarctic Circumpolar Current and finding that it is very similar.
There are strengthening winds across the Southern Ocean which are causing the currents to generate more Eddies.  It's becoming more unstable.  Those Eddies are contributing to more rapid movement of heat.  Everything is connected so the ocean temperatures are felt by the atmosphere.  The ocean experiences change due to global warming.  And the amount of heat stored in the ocean increases and it has been increasing and it will continue to increase through global warming.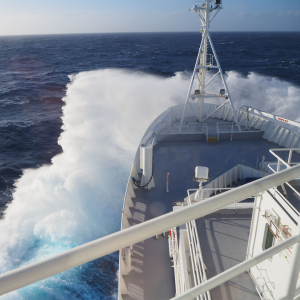 An impressive wave over R/V Investigator's foredeck in the Southern Ocean. (Photo by Nathan Bindoff)
Scientific Research Instruments
We had quite a varied suite of instrumentation that we were using and so the backbone of our observations is what's called the CTD — 
(CTD-an acronym for Conductivity, Temperature, and Depth — is the primary tool for determining essential physical properties of sea water.  It gives scientists a precise and comprehensive charting of the distribution and variation of water temperature, salinity, and density that helps to understand how the oceans affect life.)
It is an electronic instrument that sits within a big metal frame.  On the outside of the frame there are bottles for capturing water at different depths. There are other instruments to measure the ocean currents and how many particles are in the water.  The measurements also show how much chlorophyll there is and what the oxygen levels within the water are. 
The instrument is lowered all of the way to the seafloor which in this case was around 4,000 meters.
I also used a new instrument called a TRIAXUS.  
(Triaxus - It is developed for high-speed oceanographic data acquisition work and is designed to undulate between 1 and 350 metres.)  
It flies like an airplane but it actually looks like a box. The instrument gets towed behind the ship but it can profile from the surface down to 300 meters.  It profiles continuously along the path behind the ship. This information is detailed about that upper part of the water column. So we get temperature, salinity and current and lots of biochemical measurements.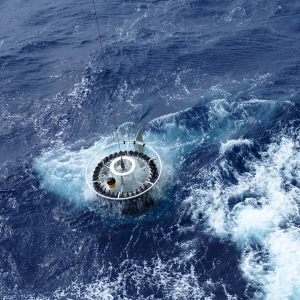 The CTD entering the water to begin its 4000 metre descent.    (Photo by: Nathan Bindoff)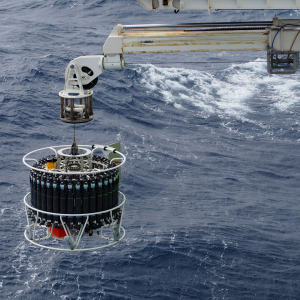 The CTD during deployment from R/V Investigator on a 2018 Southern Ocean voyage  The CTD is lowered to the bottom of the ocean and is the most accurate way to measure the detailed vertical structure of water properties over the full ocean depth. The CTD has been the backbone of ocean measurements since the 1970s. The global collection of CTD data provides our most accurate measure of the advancement of global warming.)                                           (Photo by Nathan Bindoff)
What Does This Research Mean?
Helen says she is alarmed with what she finds during her research.  She stresses that we cannot sit back and just read the research.
"I think we all have to just tell ourselves that it's not okay anymore because for a long time I think it's been too hard to know what to do about climate change.  It's not as scary as that big bill that you have to pay at the end of the week so it's a little bit further from our doors than the most immediate dangers.
But we've gotten to the point now where we have to reach the peak of our carbon emissions next year in order to have any hope of keeping the planet to less than 1 1/2 degree warming. 
That is right now and I think that we just have to say what is going on now is not okay. We need to demand change.  By doing nothing we are really deciding doing nothing is making a decision.  It is making the decision that today is more important and we don't think that the future is as important as our 'right now.' 
Of course our children are in our right now but the world that they will live in is vastly different from the one that we have enjoyed unless we say right now, this is not good enough. We need to demand that action is taken to improve our future.
So I think that that is a challenge to all of us to try and find ways that we can make a difference and cause change to happen.  We need a Revolution."
Beginning with Helen and girl in red jacket:
Helen and Harriet at Remarkable Cave, Tasmania                       (Helen Phillips)
Joseph, Harriet and a sleepy Tassie Devil at the Unzoo, Tasmania (Helen Phillips)
Isabel, Harriet, Joseph and Helen on Moreton Island, Queensland (Helen Phillips)
Joseph, Isabel and Helen on a visit to the Statue of Liberty      (Harriet Carter)
Helen and Joseph visiting Schönbrunn Palace, Vienna              (Nathan Bindoff)
Milli and Harriet out walking on Mt Nelson, Tasmania                (Helen Phillips)
Please sign up! Podcast email updates!
You can sign up for Your Positive Imprint email updates from me below.  I send out inside episode information and updates!
After you sign up you will receive an email to CONFIRM your request.  PLEASE remember to CONFIRM your request!