Interested in purchasing a Lomi?
Lomi is offering a discount code.  Your code is:  YPIpodcast and the link is: https://lomi.com
Thank you for listening to all of the positive imprints. I appreciate your support.
Most Recent Podcast Episodes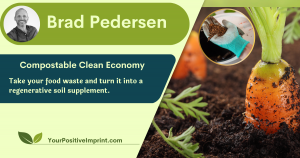 Brad Pedersen of Lomi explains that the missing link to a more sustainable planet is for us to be able to build a compostable clean economy. We need to change the habits that are creating disruption. Take your food waste and turn it into a regenerative soil supplement using Lomi.
Read More
O que mais me agrada e me faz ser sua amiga, Catarina, é a maneira como você vê o mundo, como se fosse uma extensão do seu quintal. Você tem vontade de abraçar a todos e sua alegria, sinceridade e amor me cativaram.  
Translation:  What I like the most about being your friend, Catherine, is the way you see the world, as an extension of your backyard. You feel like hugging everyone and your happiness, truth and love captivated me for life.
Dagmar de Morais
São Paulo, Brasil
Hello!  I am Catherine and I am your host.
I am philosophical but also sentimental.  Growing up, life was spent in the outdoors camping, hiking, backpacking, traveling, fishing and singing songs around the campfire.  Often times my family and I were alone in the wilderness, except for the wildlife.  My parents told both true and imaginative stories which taught us children about life.  As a result, I enjoy telling stories and listening to them. 
My husband and I meet many people all over the world who share with us their positive actions.  Join me in listening to these achievements and perhaps reflect on your own positive imprint.  What's YOUR P.I.?
Please subscribe or Follow my podcast by clicking on the Subscribe or Follow button on my website or Apple Podcast, Google Podcast, iHeart Radio, Spotify,  or your favorite podcast platform.   This is a free podcast.
Enjoy listening to the many positive imprints from around the world.  What's YOUR P.I.?