North Balwyn Repair Cafe – Australia

Repurpose, Refashion, Repair!!
Listen to the podcast episode:
North Balwyn Repair Cafe, Australia
What sentimental treasures are hanging at your home?  Do you have treasures broken that are sitting in a drawer?  Or, yikes, do your broken or torn treasured belongings make their way to the landfills ?
Ah heck, some broken items are just practical!  Take for instance a vacuum or a phone! Unfortunately, when they break, our throw-away society is to trash and replace them.  Well Don't toss those items; repair them!!
Repair Cafes all over the world are keeping items from going to the landfills.  They also teach problem solving.
"In terms of skills and experience in getting a problem solved and trying to work through the problem I think that we are sort of developing a society that is getting less opportunity to do that." - Andrew, founder of North Balwyn Repair Cafe, Melbourne Australia
"Those of us who repair and mend are all volunteers and we work full time.  But this is something that we can continue to do.  It's social but it's also a great cause." - Anne, event coordinator, North Balwyn Repair Cafe
Patrons of North Balwyn's Repair Cafe in Melbourne, Australia share their thoughts on why they are utilizing Repair Cafes.  You will be pleasantly amused with some of the items being repaired and mended.
Welcome mates to Your Positive imprint! -
Andrew Tynan, North Balwyn's Repair Cafe founder
Ann Davey, Event Coordinator
Patrons and volunteers: Albert, Di, Sally, Manny, Mina.
Meet The Aussies at North Balwyn Repair Cafe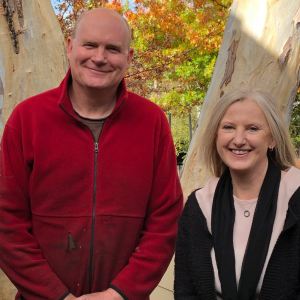 Andrew Tynan and Ann Davey
Albert, Sally, Manny, Di, and Mina