Memoirs of a Singing Military Pilot. Milton Herman

Our elders are our history. Milton Herman is part of our history. He lived through the Great Depression and several wars. As a result he has stories to share.
He's a career Air Force pilot. Consequently a war vet. He says, "we're risk takers so there's an anxiety. You know what you're training for."
Along the way Milton became a flight instructor leaving positive imprints and instilling values and morals within his students.
Milton Herman is also a singer. He sang for a presidential inauguration!
He is the singing military pilot and at 90 years old he's now taken up piano!!
Listen to other Your Positive Imprint episodes: https://yourpositiveimprint.com/episodes/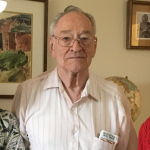 As I mentioned in January, the World Health Organization (WHO) has named 2020 as the year of the nurse and midwife. And it's a good time to thank our medical professionals worldwide.
I know some of my listeners are nurses and I'd like to mention a few of you.
Thank you to Espen of Norway working in the E R diligently. He was a guest on my show last year and talks about life in the outdoors. He also shares how and why he became a nurse. You can listen to that episode on any podcast platform or from my website here: https://yourpositiveimprint.com/episodes/outdoor-adventures-step-outside-and-get-inspired-espen-lyso-follow-your-dreams-kine-leines-skar-norway/
Carmen of United States works in the oncology unit.
Earlene of the United States is any emergency response nurse.
And Dr. Laurena is a medical practitioner practicing in Hong Kong. She will be a guest on the show at a later time.
Stay healthy and enjoy the outdoors!
This episode is sponsored by Snoot Spray!
Snoot! Spray, as seen on the Daily Buzz, keeps your nose & sinuses clear, and is drug-free. Use Snoot! Spray daily or for post-nasal drip and drainage from colds, flu, mold and other nasty bugs, or during allergy season. Snoot! Spray just donated hundreds of dollars in product and overnighted it to Washington's epicenter of coronavirus, Redmond, Washington. Snoot! Spray also donated their product to firefighters and the press in California, during the recent fire in Pacific Palisades, and their local front line delivery teams at USPS, FedEx and UPS. Products available and selling quickly from http://Snootspray.com & Amazon. Snoot! Nasal Cleanser is everything you want from a Neti-Pot squeezed into a tiny little nasal sprayer. For a one two punch, order its complementary mouthwash and gargle, DioxiRinse, at www.frontierpharm.com. Use Discount Code PerryMason to get 20% off your first order.