Justice for Nature, Alena Bendová- Czech Republic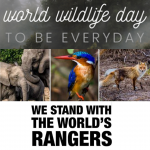 Wow oh wow!!
Doing this podcast I just meet so many awesome people from all cultures! I'm so impressed with the many positive imprints of Forest for Children organization out of Czech Republic, Europe.
They recruit rad awesome volunteers and they have worldwide support including their membership with the international ranger federation. This organization represents park rangers and park wardens throughout our world.
Justice for Nature which is part of Their website is incredible with loads of information. justicefornature.org
Justice for Nature/Forest for Children is an independent initiative. Furthermore their vision seeks a balance between human civilization and nature through active preservation of the environment and animals.
The current critical state of the environment leads this organization to creating an international vision. This vision opens the door to the wide public to take responsibility and also an active role in saving nature and animal species on the planet Earth.
Alena Bendová whom is spokesperson for Forest For Children organization shares Czech Republic's Justice for Nature global initiative.
Former guest, Martin Zeman: https://yourpositiveimprint.com/episodes/philosophies-from-a-czech-vegan-inspired-by-joaquin-phoenix-and-earthlings/
Martin, whom is also from Czech Republic, put me in touch with Alana Bendová.
I was very taken aback at first because some of the photos on their Facebook page were extremely difficult for me to handle. The unjust death of these animals is the reality of poaching and greed.
The rangers employed by this organization risk their lives, like all rangers, in order to preserve our planet's species.
It's the reality of an unjust balance between man and nature.
But this can change with positive imprints.
https://justicefornature.org website in Czech
https://justicefornature.org/en/main/ website in English