FEED THE FUTURE AND GLOBAL FOOD SECURITY, Sustainable agriculture – Andrew Bracken

Andrew Bracken and Partnerships
Andrew's work takes him all over the globe to more than 20 countries.  He is the partnership manager for "Feed the Future, Partnering for Innovation."
"My inspirational word is "partnerships" because it's in my job title but it means, for me, bringing together those who normally don't work together."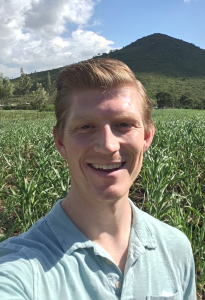 Andrew in Kenya – improved sorghum seed
"I create public and private partnerships to invest in sustainable agriculture for small farmers across the globe."
"My job helps to provide real income to farmers and not just for subsistence living.  Farmers also learn new farming practices and new technologies."
"I speak English, Spanish and Portuguese.  It's important to speak the farmers' language because they need to be able to get across their needs and their dreams.  It's more important for me to listen and to understand those needs."

Hybrid cabbage seedlings planted in Zambia
"For post-harvest loss it is important to help the farmers learn ways to keep crop quality edible.  Examples are improving transportation or using different sacks based on the temperatures."
"In Zambia we're working on a tomato seedling project.  Many times we work with universities within the country.  They do research on which seed is appropriate for specific areas within a country.  Altitude, climate and insects play a role in the research."

Hybrid tomato seedlings planted in Zambia
"I like to see the product in action which means getting back in the bush.  It's valuable to see the people who are the ones intended to receive the help.  I like to learn the cultures.  In Malawi the culture is very alive with the Chewa ethnic groups and traditional clothing."
"In Guatemala we're working on a potato seed production project.  I was there in the highlands and my Spanish skills weren't helpful as the Mayan culture is well alive.  It is so interesting.  I love the different cultures I experience.  I enjoy sharing those cultures with others as well.  It's important."
"With the funds we've reached over a million farmers world-wide.  My own projects have reached about 500,000 farmers."
"It's a joy to know that I'm in this position where I have the resources to make an impact like this.  It's humbling."
"This work has shown me new and collaborative ways to work with people."
Andrew's positive imprint is global.
When Andrew is in the USA he runs marathons.  He ran his first Boston Marathon in 2018.
Listen to the podcast and learn more about Andrew and his positive imprint.  What's Your P.I.?
Listen to other episodes after listening to this one:
https://yourpositiveimprint.com/episodes/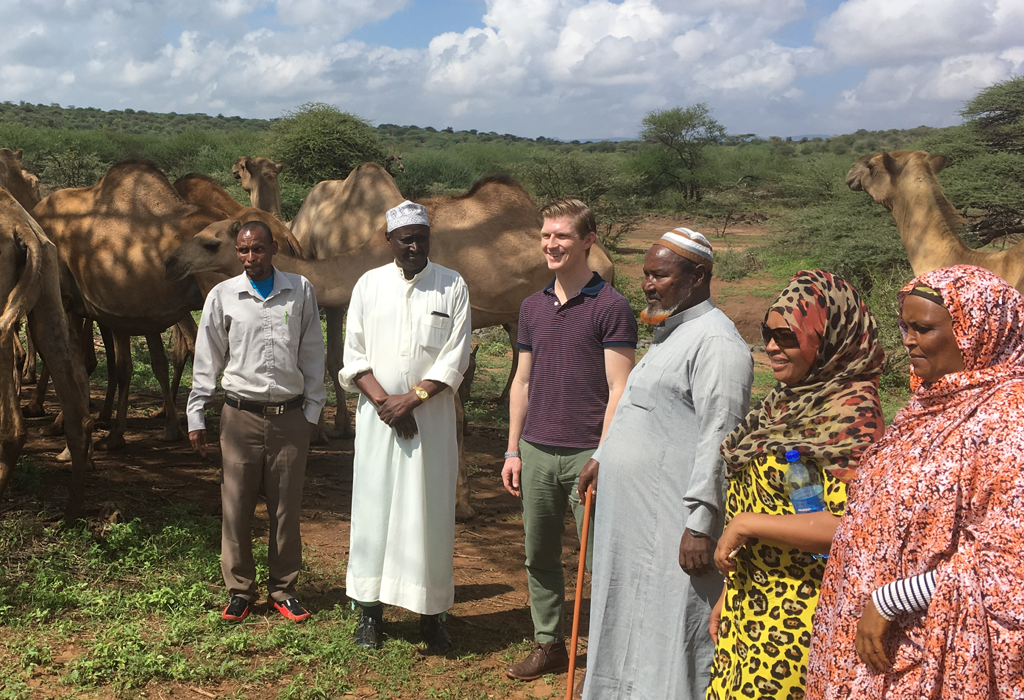 Livestock insurance for herders in Kenya
Partnering for Innovation builds partnerships with private sector agribusinesses in emerging markets that sell products and services to smallholder farmers. Partnering for Innovation's approach creates the conditions for sustainable success by:
Carefully selecting projects for their potential impact and profitability.
Providing in country expertise and connections with local agribusinesses.
Identifying and engaging the best partners in every link of the supply chain.
Addressing barriers to commercialization through acceleration services such as in country trainings and workshops.
Supplying business and technical support such as market research, affordability and financing options, and networking opportunities.
You can learn more about this foundation at: