Broadway in Paris, Michael Pereira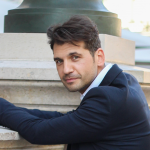 Former New York city Broadway performer Michael Pereira now living in Paris, France, is opening up a new world for Parisian dancers. Michael's studio, Broadway in Paris is bringing the magic of Broadway to the City of Light – Paris and beyond.
But Michael not only shares the world of dance. On this podcast episode he also shares his deep philosophy and inner spirituality.
Michael shares his life story of positive imprints that changed his own life. Legendary Betty Buckley is one of those imprints.
This philosophical dancer found different paths to get him through his struggles. The universe can dream a bigger dream for you than you can even dream for yourself.
Through his positivity and love for dance, he transforms lives.
Michael Pereira IS Broadway in Paris.
https://www.facebook.com/BroadwayInParis/
https://www.instagram.com/allaboutmichael/
Listen to more episodes from Your Positive Imprint https://yourpositiveimprint.com/episodes/