Father Ray Kelly Hallelujah singing sensation reminisces and humanizes his journey into the priesthood Part One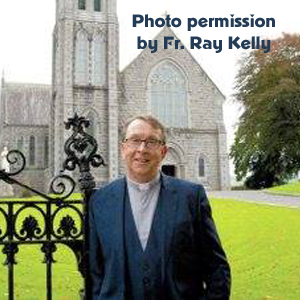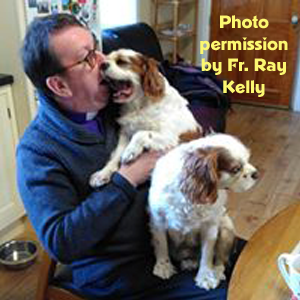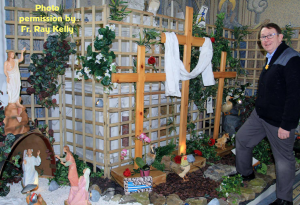 Father Ray Kelly Opens Up
Father Ray Kelly was a late vocation into the priesthood at 35.
Early on I thought about the priesthood but I started having money in my pocket so that changed me completely.
I was a hit-and-miss Catholic and didn't go to Mass consistently.
The Pope invited my group to Castle Gandolfo and I entertained him singing the song Danny Boy.
Well, I started going to Mass and I began to have these thoughts in my head and the thought was 'Ray, you know you could be up there doing what that guy is doing.'
Ray, I thought, you're definitely cracking up. No way no way don't even think about being up there. Absolutely not.
Well, I sold my car, I quit my job and I joined the Kiltegans, a missionary society. St. Patrick's Missionary Society.  I was ordained June 1989.
Some guys and I formed a band.  Rafiki.  We recorded a song I wrote while another guy wrote the music for Youth Aid in Africa.
As a missionary I went to South Africa.  I was about three months into learning the language when I received a phone call.  My dad was very sick.
It's meaningful that I flew back to be with the family. My dad died of a brain tumor.
After the funeral I returned to Africa.
Apartheid was supposedly breaking up but it shocked me with the continued segregation.  It was stressful but there seemed to be nothing I could do.
We only get one shot at this through this life and we have to do the best we can and give the best we can.
Listen to Father Ray Kelly, Part 1
Read more about Father Ray Kelly on my Blog
Partial Transcript
Welcome to Father Ray Kelly from Ireland. I do not want to label him with any specific positive imprint because he has many.
I want to begin with what brought him to the priesthood
I guess I was a late vocation. I was late to the priesthood. I was about 35 years old when I was ordained. I had worked in Dublin for about well nearly eleven years in the Civil Service in the government offices there.
I remember when I was 16 or 17 thinking about the priesthood but I think something scared me off very very fast. Well then I got a job and I started having money in my pocket so that changed me completely with regards to thinking about the priesthood.
And it's strange how things come back to you. Back in 1979 Pope John Paul II came to Ireland. It was a great occasion. when Pope John Paul II came in September of 1979 and I thought well it was a great experience to meet the pope and I was there in one of the locations where he said Mass.
The following year a group of us in Dublin, part of the Catholic youth Council, decided to pay a return visit to Rome to thank Pope John Paul II for coming to Ireland. So an organization was set up for about a thousand young people that traveled over to Rome for 9-day trip or a pilgrimage. I was on that with a number of my friends from work as well and that was a great experience in itself and we had met the Pope in Peter's Square.
He invited us to Castle Gandolfo for Mass and then he invited us the following evening back to Castle Gandolfo for a concert. He shared a talk with us and then we put on a concert for him. I was one of the ones picked to entertain him and I remember singing a song Danny Boy.
Afterwards he presented me with the rosary beads like he usually does to most people. It was a great experience and I got a photograph taken with him and our group as well.
It's strange then when I came back. Now you being Catholic you're familiar with Lent obviously. Well the season of Lent we like to do a little sacrifice. As children we are encouraged to give up sweets or something.
Well I remember when I was young my father used to always get me up to go to Mass in the mornings before school. Well I sort of thought when I became back from Rome I thought I would do something like that for Lent.
I was kind of a hit-and-miss Catholic and would not go to Mass. But when I was home on the weekends my father and mother would make sure I went to Mass. Well back in Dublin you know I was in the big lights and the big city and I had more things to worry about than going to church on a Sunday or something like that.
So anyway I started going to Mass during the season of Lent and the church was just across the road from where I worked. I began to enjoy it and it was a wonderful 20 to 30 minutes of relaxing time. And then I would go to work after that and do my daily work.
I guess Easter came and then I kind of missed going to church so maybe I could continue to do that you know. And I would just have to get up earlier and go to Mass.
I suppose maybe about six months into doing that I began to have these thoughts in my head and the thought was Ray it was like somebody was speaking to you almost in my head. Ray you know you could be up there doing what that guy is doing. And that was the line Ray, you could be up there doing what that guy is doing.
I hadn't thought anymore about that for a while and I thought you're definitely cracking up. No way no way don't even think about being up there. Absolutely not.
So that went on for a while and it would go for a while and yeah it was really all in my head. It was definitely just in my head and it's gone now thanks be to God. It's finished.
And then it was gone for so long I was a bit disappointed but then it would come back again. So it was almost like a tug-of-war going on in my head for a long long time for maybe over a year.
The following year John Paul II came to the United Kingdom and I remember going over to Edinburgh and I think it was 1981 or 82. I had a great experience again and went to Mass. He was in Moorefield.
And I came back from there and this thing in my head was annoying me. It was bugging me and I didn't know what to do. I said to myself the only way to deal with this is to talk to somebody like another priest about it. And I did.
I talked to a priest in Dublin with the order of the Missionaries of the Sacred Heart.
(The Provincial Council for the Irish Province of the Missionaries of the Sacred Heart is located in Dublin.
The MSCs of the Irish Province currently work in parishes and retreat centres across Ireland, England, America, South Africa, Venezuela, and Russia. From hospital chaplaincies, prison visits, and counselling, to health initiatives and education, Irish MSCs endeavour to bring God's compassion and hope into the often troubled circumstances of today's world.)
He sat me down and we chatted about what was going on. He said the best thing to do really is to come in for a weekend into the Seminary and see what it is like you know.
So I told nobody. I just told my mother and my father that I wasn't going home that weekend. I didn't tell anybody what was happening. And I went for a weekend to live with these guys in Blackrock Dublin just on the south side of Dublin.
I really enjoyed it. I spent time with the other students and I chatted with them and I sort of became very much at home.
Well I came home with the idea that maybe I would give it a try. Well I better break the news to my mother and father. So I sat down with mother and father and I told them because they knew there was something wrong with me and they were worried that I was Ill or something. I didn't want to tell them.
Anyway I sat down with them and explained what was going on. My mother then said that her cousin Father Joe is a Kiltegan priest which is another mission order in Kiltegan. The Saint Patrick Missionary Society.
My mother then said they have a house in the UK and they have houses in America and Father Joe was home from Nigeria on holidays and at that point he was visiting us. My mother told him what I was thinking.
Fr. Joe told me, why don't you try Kiltegan the order that he used to belong to and so I thought maybe I would. It's kind of like when you are looking for something you want to shop around basically.
You want to get the best product. You want to go to the best place you know.
Anyway I met with Fr. Joe and I contacted the Kiltegan Fathers and Easter was coming up and they invited me to go up there for a few days to Kiltegan County Wicklow which is up in the mountains and it's a beautiful area. And I went for what we call a live-in. I went from Holy Thursday up through I think Easter Friday.
Driving into the place it was so peaceful and there was a lake surrounded by fields and trees and cows mooing in the fields and animals all around. It was just lovely.
I kind of almost almost there and then made a decision because I felt well if I want to continue with this I did not want to be in Dublin as well because I had lived in Dublin for 11 years. I kind of felt well you know it might be good for my vocation if I'm really thinking about this because it would help my friends to come and visit and so on. So I thought it would be a good place to cut off the best that I could.
I only found out recently that my mother was trying to contact somebody to see what she could do to get me to change my mind. Well you see mothers would do that because I was in the Civil Service and it was her responsibility I guess because she got me the job. But really it's like going back in the years in the 70s that if you got a job and it was secure with benefits you stayed. You can have your own car and your mortgage and indeed I had all of that and to give all of that up did not make any sense to my mother at all.
So I suppose she was trying to get around it to see that she could persuade me to not go and not give up the stability of a good job.
But in the meantime I sold my house; I sold my car; I quit my job and I left for Kiltegan. That was September of 1982. I spent seven years there. The first year was a spiritual year in which you kind of are learning about prayer. There were 18 of us in the class. I was the oldest I was 29 or so at the time.
It was my first experience of actually living in a community life because I had always been independent and I never went to a boarding school. I always either lived at home or my own apartment or whatever so this was a whole new experience for me.
I suppose you know in hindsight looking back I never really well, mmmm, in only recent times I started to write a book. It was only when I was writing the book when I realized the amount that I actually really did give up and it was a lot but I never did pat myself on the back because that's not what I wanted.
I just felt this is what I've had to do and I suppose the power of God is really in all of our lives and that power was working there. The Holy Spirit was working there on me and I just didn't recognize it. Now I felt that it was what I had to do.
I did say that I would try it for one year and if it doesn't work out I was lucky to have my job to go back to. They were going to hold the job for me for 12 years which was just fantastic. It was amazing. If I left after 2 years or 3 years or even after I was ordained and I didn't want to be a priest I could still get my job back with civil service. So that was really a positive thing for me as well because I felt a little bit more secure in making this big change in my life.
So that was it. I joined the spiritual year class and we were the class of 18 and we were learning about prayer There was no pressure on studies. We had lectures but there was no pressure as you could achieve the level that you could and they were happy with that. If you were proven that you could keep a standard up then that was good.
One of the first things we had to prepare for was a musical. We had a guy coming in who would produce some music when he was teaching us homiletics and teaching us speech and drama. He was an ex army colonel with a very British Posh accent. A big man with a cigar in his mouth you know that type of an image.
He was a really lovable character. He actually chose the music The King and I. Now you can imagine 18 guys trying to act out the musical from The King and I and amazingly it worked. I was cast as Lady Thiang the King's first wife. Another guy from the UK was cast as Anna and it was just unreal.
The whole idea behind it was for us to accept ourselves as we are. Warts and all —get over your inhibitions and stuff like that. He even put us lying on the ground sort of and he put on some Strauss music on. He put us through some meditations and sometimes he would get up and tell us to waltz around the room like fairies basically around the place and of course some of the guys were so Macho that they were rebelling against the whole thing anyway.
He got the message through. I remember one time he said, boys when you get out of your bed I want you to go to the mirror and I want you to say I am beautiful you know this type of thing. He was really ahead of his time with his thinking. It was a great experience.
Then came the Saint Ignatius Retreat which is a 30-day Retreat. It's a retreat of Silence. That was difficult but we had a break during it where we could talk for I think one or two days during the whole 30 days. Again we go through the whole story of Jesus's passion and meditations and it finishes off with the Friday after Easter which is Easter Friday. And then family could come visit us. So that was the first year.
Then there were two more years of philosophy in County Cork down southf Ireland and then it was back to the senior House of Kiltegan for three or four more years where I did my theology.
There was actually a lot of music involved in our lives. I was involved with great musicians who could play piano, keyboards, guitars and then I could sing and nobody else could really sing but we had some great music.
In our second year in theology this lady name Kathleen Colin was running a fundraiser for Africa and asked if we would write a song for Youth Aid in Africa and different things like that. So I wrote a song and the other guys put music to it.
We recorded it and I'm talking about one of those small little vinyl you know records. And I have that record still but we recorded anyway and that was my first experience of ever being in a recording studio. We actually formed a group then because we enjoyed it and we called ourselves Rafiki which is a Swahili word meaning friends.
We priests but we had our own boy band for a better word if you know what I mean. We used to do charity gigs and go into the colleges.
And then I was ordained in June of 89 and after I was ordained I was assigned to South Africa.
So I had to get visas and all of that to go to South Africa. I went out in September of 89 after being ordained in the June of 89. I was out there for only three months from September to December.
St Patrick's Missionary Society or the Kiltegan priests.
South Africa was just after Nelson Mandela was released. He was released from Robben Island on the 11th of February 1989. I remember the date because of the feast of Our Lady of Lourdes and he was released.
I went out in to the missions in September of 89. I was learning the language first and then I was going to spend about six months doing that and living in a very rural area with very poor electricity and batteries were used for the lights and stuff like that. Chargers or whatever we had to keep things going.
I was about three months into learning the language when I got well now bearing in mind as well there are no mobile phones. The only communication I had with him was a landline or through a letter which took about 10 days. It wasn't as modern as what it is now.
So I got a phone call from the Diocesan office about the second week of December and my mother was on to say that my dad was very sick and they didn't know whether it was a brain tumor or Alzheimer's or what it was. The doctors thought that I should be told and maybe to get home because they were very uncertain. I booked my flight back home from Johannesburg and I was living about 7 hours drive from Johannesburg and I got a flight there in JoBurg and I got home to Dublin.
My dad was eventually diagnosed with a brain tumor and he was given three to six months and he actually died on the 11th of actually the 14th of February the following year. He had a brain tumor.
It was very meaningful that I was able to fly back and be with the family. I know that he was very excited actually around the time when I was ordained which was really only six or seven months before all of that you know. He was very excited about me being a priest. So I suppose I was very thrilled that he lived to see that as well.
But after my dad died in February of 1990 I stayed at home with my Mum and we organized everything like my father's grave, The Headstone and everything that you do. And then I went back around April of 1992 South Africa.
I was only back there for three months when the phone rang again and this time it was my mother. She was very ill and she'd a heart attack and it was touch and go for her. So I really did not know what to do because I was so far away and you know I felt guilty about having to go home again because I was only back a few months. And then there's the cost of the flights and everything like that.
Two Franciscan nuns came in and I was very upset. They asked me what was wrong and I explained to them. They said for God's sake go book your flight and go home and be with your mother. If she lives great you can come back to us but if she dies you will at least be with her. So I did that and I went home. I spent a month with her. She survived and she died in 2004 which would have been nearly 12-14 years later.
So I went back to Africa after that and I found it so difficult to settle down after that. I had tried to study the languages and saying Mass in it and stuff like that. I could say Mass in it but I couldn't preach in it. I could preach in English and somebody would translate for me.
I decided look, I wasn't happy. I wasn't happy at all. About a year into that I came home because I just felt that I was missing out and you know I really hadn't grieved for my father very much and then my mother became ill so there were just a lot of things going on in my head.
I came home for a while and Kiltegan gave me temporary appointments as an army chaplain. So I worked in Northern Ireland for a while and then I spent three and four months in America traveling around the states doing missionary appeal work.
Mission appeal work is when you go into a parish and the parish priest is notified in advance that a missionary priest would be coming to promote his Society The Kiltegan Fathers and to raise money for their work in Africa. I would then drive off from my location in America.
At that time I had no fear of driving on the other side of the road either But when you're that young but now I wouldn't do that. Well I drove through Harlem and I drove to different states and I drove to New York and through Cape Cod. I drove drove all over California down into Phoenix Arizona. The beauty of the work was my working week was Saturday and Sunday and my weekend was Monday through Friday so I had a 5-day weekend. That was nice.
It was amazing you know because I would leave the parish on a Sunday and head back to my headquarters and then maybe Monday or Tuesday I would head off for sightseeing all around the states and spend a few days to see things and then back to another parish and then Friday evening again and so it was great. I did this for three or four months of that and then I came back to Ireland to a more temporary well two more temporary appointments.
I was getting tired of temporary appointments because you never really get to settle anywhere when you're just going from A to B all of the time so I felt I needed something more long-term and I applied to my Bishop in the Diocese of Meath where I am here. Bishop Smith and he's actually the one who ordained me. He only retired quite recently and I applied to him.
I applied to him and my superiors at Kiltegan were happy enough that I join the diocese for a couple of years and see what it was like and so I did that. I was still with the Kiltegan Fathers until I could make up my mind.
About two years into working in my diocese here I decided to be incardinated which means you leave the Society of the order and you join the diocese. It has to go through Rome but it's a formality. So I was in Meade diocese and I worked in Navan in the county town of County Meath and I worked there for nine years which I loved and there were five priests and myself working in the parish.
It was a great musical society there in the town and I became a part of that. I performed in shows like Jesus Christ Superstar, Joseph and the Amazing Colors. In Joseph I played Reuben one of the brothers. In Jesus Christ Superstar I played Simon Peter and in Guys and Dolls I played Nicely-Nicely Johnson. ( singing.)
I was in Fiddler on the Roof as well and I was I was the tailor which is the guy that falls in love with and gets married to one of the daughters of Tevye.
That was a great character and one who was a very fragile character and there was some great songs in that show.
Later I looked at a transfer closer to home because my mother wasn't too well and then I was in a parish about 15 minutes drive from my home place and I was about a year to there when my mother died in 2004. I stayed there for another two years and then the bishop appointed me Parish priest here at Old Castle where I am here today. I'm on my thirteenth year here at this Parish now.
What is one of your most inspiring homilies that you've ever given?
Oh my gosh that is a hard question.
Usually I think I find that my homilies in particular at funerals can be very meaningful. I put a lot of work into them and preparing them with families and talking about the person who has died. I know that people find comfort in them. Particularly funerals.
People just need to you know well, you don't get the full story all of the time about a person but you kind of share with them as much as possible about the life that they've lived and the goodness that was in each of them. There is so much goodness in each one of us you know.
We are good people doing the best we can and trying to live the good positive life that we can. And I suppose I remind people as well that there are people out there who knock us and put us down and to make us feel lesser than what we actually are. I try to encourage people not to let that happen.
I suppose as well we only get one shot at this going through this life and we have to do the best we can. And give the best we can. And I try to get that message across as much as possible I suppose.
So are there any stories that are just something that you remember so well in South Africa that it changed you when you were in South Africa? Because you know it's a different culture.
Oh very much. Now bearing in mind apartheid was supposedly breaking up but it hadn't really broken up because I think when Mandela was released that time in February of 1989 I think a lot of the black people expected the country to just have a magic wand be waived and everything was going to be alright. And now we're talkin about 30 years later and it is still not all right. People are still struggling.
I had to live in a white town. I could not live among the back people . I could serve the black people yes I could. I was able to drive out to the different parishes with about 19 churches so I would touch base with most of them over a month for services for Mass and for baptisms and First Holy Communion and all of that, weddings and whatever else had to go on I could carry that out in the church and serve them.
The first Sunday of the month I would be at one place then I would be in another place and I would go around to them all. I could tour 3 several locations Saturday evening through Sunday and then you're walking in the heat as well so it was very heavy going I have to say. Not only that but there's actually three languages in my Parish. I was only learning one of them or at least trying to communicate in one of them.
I send Christmas cards to people out there still and I had to Facebook so I keep in contact. It's lovely because I have some very nice friends from there.   Mauritius.
You are The Singing Priest everywhere you have gone and you bring joy to people.
Please sign up! Podcast email updates!
You can sign up for Your Positive Imprint email updates below.  Emails are from me. You will receive a CONFIRM email to confirm!
Please post positive reviews on iTunes or your favorite Podcast platform!
Please subscribe to this podcast by clicking on the Subscribe button at your favorite podcast platform!  Thank you for the support!!