Archaeologist recovers human remains. History vanishes as ice melts- Anne M. Jensen; Vanessa Crandell-Beck studies Mt. St. Helen's.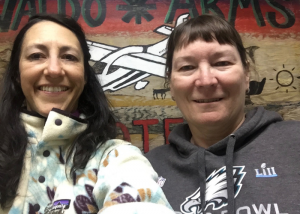 Archaeologist Anne M. Jensen
I've been an archaeologist in Alaska for thirty plus years and right now I'm the only northern Alaska full-time archaeologist.  I'm a senior scientist at Ukpeavik Inupiat Corporation which is an Alaskan native-owned corporation.  
Being in the field as an archaeologist for 30 years I have seen many environmental changes.  I have a blog, Out of Ice and Time where you can find all sorts of information on archaeology but also the reality of the melting ice.  Ice preserves bones and artifacts but when the ice melts that's it; those remains are part of the sea.
Somebody reported human remains up near Nuvuk.  We worked hard to recover them before they washed away.  This one individual dated back to 1000 A.D. or earlier and this person had grave goods intact. I thought perhaps these were the remains of a traveler who had died in that spot but the next year more remains were found.  Dennis O'Rourke, an ancient DNA researcher helped with dating of these remains.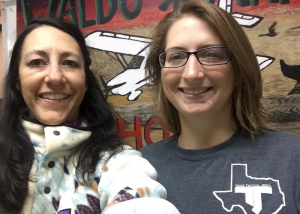 Vanessa Crandell-Beck
I've worked in the oil fields before and I've been employed on ships.  These are male dominated jobs but I did well and I succeeded.  But what I want to do is be a volcanologist.  
My research was done at Mt. St. Helen's and that was studying to see if there was any correlation with grain size distribution from the source down to where the mud flow was deposited.
Vanessa received Bachelor's degrees in Geology and Oceanography from Humboldt State University, and later on a Master's degree in Geology.  She is an environmental scientist. 
Please sign up! for email updates!
You can sign up for Your Positive Imprint email updates below.  Emails are from me.
Please post positive reviews on iTunes or your favorite Podcast platform!
Please subscribe to this podcast by clicking on the Subscribe button at your favorite podcast platform!  Thank you for the support!!