Shoes for the Masses – Darryl Carnley, My 360 Project

Shoes! Changing the Way Children Play
There are 300 million children in the world who walk around barefoot. The My 360 Project is changing that. As far as the shoes go, this non-profit organization does not want to buy and distribute them. They want to teach locals around the world how to become sustainable with their own cobbler business.
Experts teach and pay people how to build the shoe. It's part of a sustainability project. The local artisans build shoes for the My 360 Project. Volunteers deliver the shoes to poor communities around the world. Through community, a seed of hope is planted into the lives of others. This non-profit is about sustainability, community, and economy.
How does this organization help people become sustainable? Darryl Carnley didn't know anything about shoes at first. But the goal is for the people to have their own cobbler business eventually and make their own living. Sustainability.
Darryl Carnley, CEO of the My 360 Project shares his experiences and views of the world. As he travels, he plants seeds of hope especially into the children. When fitting shoes on the children, whom for many are shoeless, he washes their feet first. He feels this is a way to show care and love.
The children are full of smiles and laughter when receiving the special gift built by one of their own community members.
Darryl says that people are losing their dreams. He wants to help them dream again. Those dreams change everything.
-With Darryl Carnley, CEO, The My 360 Project
Your Positive Imprint Episodes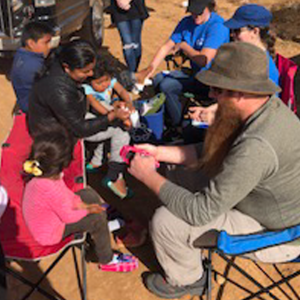 My 360 Project. Shoe fittings.