World Health Organization; Paragliding Accident Survivor – Larry & Sara Grummer-Strawn

Larry Grummer-Strawn is with the World Health Organization. Otherwise known as WHO. The World Health Organization's mission is to promote health, keep the world safe and serve the vulnerable.
Much of the world is a healthier place to live in since WHO came to be 70 years ago. However there are new challenges World Health Organization faces. Consequently WHO cannot solve the world's health problems. At least not alone.
Fortunately WHO has a workforce like Larry Grummer-Strawn. His main focus is on maternity leave, infant and young child feeding. He travels the world advocating breastfeeding research, policies and recommendations. That's where his work with maternity leave fits in.
Moreover Larry is part of a workforce who brings countries together to discuss health concerns. Science and research are the running force with regard to making decisions and policies.
Furthermore WHO and its workforce are instrumental in implementing global programs, human rights, ethical standards and equity.
The vision of the World Health Organization is a world in which all peoples attain the highest possible level of health. Larry's values and actions are that vision and part of his positive imprints.
Sara Grummer-Strawn, who is married to Larry, went on a paragliding excursion. She barely returned to Larry. Listen to her account of an horrific accident followed by courage and perseverance.
World Health Organization topics, breastfeeding
World Health Organization comic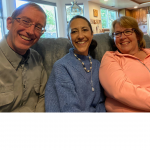 Listen to more inspiring positive imprints: Your Positive Imprint episodes page