Get Unhooked Prescription Drugs, Dirk Wales Filmmaker, Author "Jack London's Dog"

Storyteller Dirk Wales, 87. Inspiring others with his stories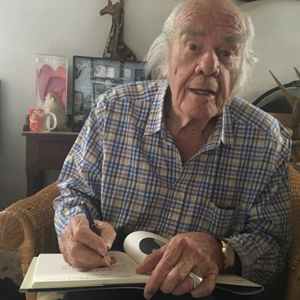 Storyteller, Dirk Wales has been leaving positive imprints around the world for several decades. He is the author of novels, 'how-to' books, and children's books including A Lucky Dog about Owney, the post office dog. He found a niche in movie making through his Rainbow Film productions. Rainbow Productions produced more than 70 films about anesthesia as well as children's animated films and other genre of film.
Chicago, Illinois USA is his birth city but his parents raised him in California. While living in California as a teenager he worked as a carhop where he waited on Frankie Laine, Nat King Cole, and Ronald Reagan and Jane Wyman. With his earnings he enrolled at the University of California where he says his education provided him the foundation for his accomplishments.
UCLA in California was the beginnings of the wonder of my own education.
The only university that I could afford was University of California at Los Angeles (UCLA) with the tuition being $18 a semester. One of my deepest and important inspirations of my life was being a theater student at UCLA. Ralph Freud, an actor, and film producer Kenneth Macgowan, were both instrumental in creating the theater department in which I attended five years later.
This was the beginnings of the wonder of my own education.
I learned how to be an actor, writer, script writer, set designer, director, producer, storyteller, gaffer, etc., and furthermore I did sixteen plays a year where I won best director's award for two plays that I wrote.
Early Working Years
When I graduated I landed a job with a motion-picture and television studio but soon I was a platoon leader in southern Germany guarding the border with Czechoslovakia against five divisions of Russian tanks. During my years at UCLA I attended ROTC classes and as a graduate student I served in the army as a Lieutenant. So off I went to Munich Germany as part of an armored infantry unit. I learned a lot.
I might have been a Lieutenant but every other man in the unit knew more than me. My leadership is based on collaborating with the men because we trusted each other.
Reading books opened up a whole new world for me
Growing up my parents didn't encourage reading so I never really did any reading of books until I was in my thirties.
Seven and eight decades when I grew up there were no art galleries or bookstores, except in New York. Well I moved to New York when I was in my thirties. New York was a great place for me because I experienced art galleries, plays, book stores, museums!
I started reading all sorts of books and I never read anything so powerful and so meaningful until I read Call of the Wild by Jack London. This book changed everything for me. My life changed. I changed my life.
Jack London's book just meant so much to me and when I was in Pasadena I saw a photo at the Pasadena Museum of Gold Miners. Amongst the gold miners is a dog. This photo and London's book inspired me and so I invented Jack London's dog and I wrote a book. Jack London's Dog is about a lost dog who befriends Jack during the gold rush in the 1890s. It's a story about friendship and adventure.
I've made some wonderful friends because of this book. Jack London's club asked me to speak and since then I've joined the club and am grateful for all of the experiences and friends I've made from this.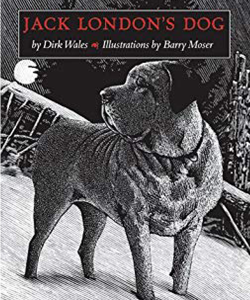 I'm Obsessed with Work and Writing and I love storytelling
I got an idea from three pages from a non-fiction story about a dispute in the 1800s between Egypt and France. A giraffe was given to the King of France. My book is The Giraffe Who Walked to Paris.
A Lucky Dog is my best-selling book which is a true story about the travels of Owney, a stray puppy at the Albany Post Office. Owney became the official mascot of the U.S. Rail Mail Service. The United States Post Office featured Owney five years ago on a US postage stamp.
My most recent novel is a love story – The Fall and Rise of Landon Harris in which I had fun writing. Landon Harris is an accomplished writer who finds himself in a slump seeking to find answers in his life so that he can rebuild his writing career.
My agent told me to write more love scenes so I did. Not all of the love scenes are used in this novel so I wrote another book called Love Scenes.
I've just finished my fourth novel which is called A Walk on the Beach and it takes place in modern day.. I grew up in California and there is this glass church located in Rancho Palos Verdes, California. It sits on a cliff. Lloyd Wright, the son of Frank Lloyd Wright, designed this unique modern architecture. This church is built entirely out of glass. It overlooks the beach and this is part of my setting for this novel.
A Walk on the Beach won an award at the Los Angeles Book Festival but right now I don't have a publisher for it yet.
I'm obsessed with work and writing.
Storytelling is an inspiration.
All of these accomplishments are because of my being inspired by reading.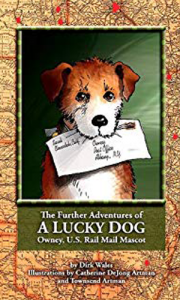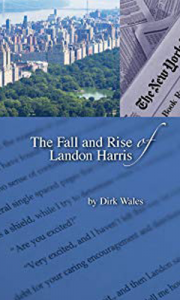 Storytelling is an Inspiration
I've also written a book on how to create a children's book. This book really talks about the creation of an idea for a children's book and how to get started on the book. My goal is to inspire you to tell a story.
I'm 87 and on May 17 I will be 88. Send me a birthday card!
Anesthesia Films that Saved Lives
An important part of my life is my film company, "Rainbow Productions," in which I made educational training films for doctors in the area of anesthesia. Those are important to me and I also won many awards.
One of my close friends, Dr. Thomas Hornbein from the University of Washington's Medical Center in anesthesia called me up. Dr. Hornbein told me that in the last two years nineteen of the university's young, anesthesia medical residents have killed themselves with an overdose of our own drugs. Let's collaborate a way to stop or even slow this down.
This project was important to both of us. Thomas is dedicated. (On a side note, he is the first American to make it up to Mt. Everest going up the West Ridge.) Well the two of us collaborated and I produced many many films. The films are still available and the series is called "Wearing Masks."
The first film 1n 1993 was a widow's story about the loss of her 29 year old anesthesiologist resident husband. This film shipped everywhere and I believe it helped families and residents to identify addictions. American Society of Addictive Medicine honored my production with the National Media award.
Misuse of prescription drugs is America's biggest problem. Well I'm not an internet person but I know that it's a good way to reach people who are seeking help so I founded and I continue to fund the non-profit website, "getunhooked." Getunhooked.net
"Getunhooked" provides information and ways to get help and to get unhooked. I'm very proud of this.
Everybody is supposed to get out there and do something and make something happen.
Chris Van Allsburg Inspired Me
Besides my medical films I've also done many other films including children's animated films. I belonged to an organization in Chicago and there were a lot of film librarians who wanted films for their libraries. One of the films I made was Ben's Dream based on a book by Chris Van Allsburg which is about a boy who falls asleep over his history book and he dreams of floating around world structures like the Statue of Liberty and the Eiffel Tower. His books are amazing. Of course everybody knows The Polar Express and Jumanji but my favorite book is The Mysteries of Harris Burdick.
Chris Van Allsburg inspired me along with other amazing people.
My Inspirations for You
My country is full of people whom are struggling and I know some of them. They're struggling to get along but they think that their life is just meant to go to work, come home from work and get ready for work again. It really shouldn't be like this.
What it is all about is developing a habit in which you're going to do something for yourself.
It doesn't take much but it takes developing a habit. You can get up an hour early each day to work on your story, or something else, but for yourself. It's a matter of discipline and developing a habit that you're going to do something for yourself will re-inspire you.
People find reasons to not work on their own growth and development.
Writing books have widened and broadened my world.
Storytelling is an inspiration.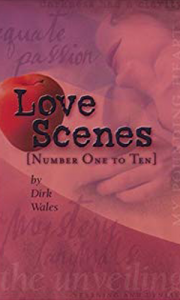 Please sign up! for email updates!
You can sign up for Your Positive Imprint email updates below. Emails are from me.
Please post positive reviews on iTunes or your favorite Podcast platform!
Please subscribe to this podcast by clicking on the Subscribe button at your favorite podcast platform such as iHeart Radio, Apple Podcast, Spotify, etc.!
Thank you for the support!!
Listen to more Your Positive Imprint episodes: https://yourpositiveimprint.com/episodes/